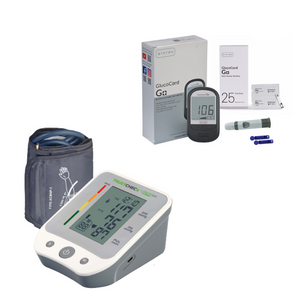 Purchase Trustcheck BPM 3.0 + Glucocard G+ Combo Kit Only on Arkray Website.
Trustcheck BPM 3.0 Digital Blood Pressure Monitor provides a record of blood pressure measurement over time to give your doctor important and valuable information on your actual blood pressure values under everyday conditions.

Also, the stress of being in a doctor's office may cause an individual's blood pressure to be higher. So regular home monitoring in a normal, relaxed condition may give a truer indication of blood pressure.
ABOUT G+
From Diabetes to Diabet-easy with Arkray Glucocard G+, a compact blood glucose meter designed for faster and easier testing of blood glucose. Manufactured in India and designed with trusted and advanced Japanese technology, Arkray Glucocard G+ comes with Individually Packed Strips that ensures accurate results.

Individually packed strips minimize exposure to humidity and increase the shelf life of the strips till their expiry date. With functions such as auto coding, before and after meal result flagging, result level indicator and test strip safe eject button, Arkray Glucocard G+ makes life with diabetes easy.
JAPANESE TECHNOLOGY, MANUFACTURED IN INDIA: Made in India & designed with trusted and advanced technology that ensure accurate results
INDIVIDUALLY PACKED TEST STRIPS: Minimizes exposure to humidity, ensuring accurate results and longer shelf life of 18 months
AUTO-CODING FUNCTION: Eliminates coding errors, ensuring easy, stress-free & accurate self-testing at home
BEFORE & AFTER MEAL RESULT FLAGGING: Flags results as pre & post-meal reading, easy comparison reference for user & doctor
RESULT LEVEL INDICATOR: Classifies results in various levels for easy interpretation
TEST STRIP SAFE EJECT BUTTON: Safer and cleaner way to dispose of the used strip without touching it.